You're aware that we're ready and accepting 2290 Truck Tax Returns for the upcoming tax season 2018-19 well ahead of the scheduled time to make you well prepared and complete your 2290 reporting on time. You also have a reason to pick Pre-Filing, as we bring you 15% off on your efile preparation fee. Yes, avail it using the promo code "EARLYBIRD" and save big on your efforts, time and hard earned money.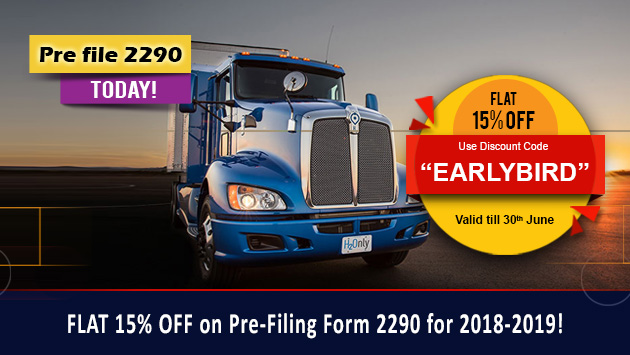 Electronic filing for 2290 Truck Tax returns
It's time for your 2290 tax form renewal, the heavy highway vehicle use tax is required to be paid annually to the IRS for every truck that drives on public highways and weighs over 55,000 lbs. Once you file your IRS Tax Form 2290, a Stamped Schedule 1 will be provided to you as your receipt for this heavy highway vehicle use tax. A printed copy is required to register your vehicles each year with the state authorities. A copy of the IRS stamped Schedule 1 for the current year available on your account so you can always have access to it. 
Electronic filing is the best way to report your taxes online, it is 100% accurate and easy, 100% fast and quick, 100% safe and secured. You could save a lot of time spending at IRS office or with a paid preparer, you could do your taxes on your own with the step-by-step process at Tax2290.com.
How to Pay the Tax 2290 on Vehicles?
There are three methods to pay the tax. IRS has now introduced Credit or Debit Card payment for paying 2290 taxes. You can pay by internet, phone, or mobile device when you e-file, It's safe and secure. The IRS uses standard service providers and business/commercial card networks, and your information is used solely to process your payment.
You must pay the tax in full with your IRS Tax Form 2290. No partial payments are allowed by the IRS.
Start preparing your 2290s online and complete reporting in minutes, rather than spending lot of time with your math and other tax data. Connect with us for instant help on your 2290 tax preparations, we're working from 6:00 AM to 6:00 PM Central Time (CST) in all business working hours. During the crucial July and August, we're also available on week ends between 9:00 AM to 6:00 PM CST. Our Help Desk (+1 866 345 3918) lines are open and answering them effectively. You could also do a LIVE Chat with your agents at TaxExcise.com. You may also email us your questions to support@taxexcise.com.